27 de Março, 2019 - 01:00 ( Brasília )
BR-US - Sec Defense Shanahan and Minister Azevedo
Transcrição do encontro do Secretário de Defesa Americano Shanahan e o Ministro Azevedo
---


Press Topper Bilat Meeting at the Pentagon With Acting Secretary of Defense Patrick Shanahan and Fernando Azevedo e Silva Minister of Defense of the Federative Republic of Brazil. Recoded at Pentagon, Washington DC, 26 March 2019.


Minister of Defense Fernando Azevedo e Silva arrived at the Pentagon today with a full honor ceremony, which included a beautiful rendition of Brazil's National Anthem. @DefesaGovBr @DeptofDefense @ActingSecDef pic.twitter.com/jwLwLEh0ye

— Embassy of Brazil – USA (@BrazilinUSA) 26 de março de 2019
????? The meeting today between Brazil's Minister of Defense and the U.S. Secretary of Defense took place a week after President @JairBolsonaro met with President @realDonaldTrump, when Brazil was declared a major non-NATO ally to the United States. pic.twitter.com/fOSsUCNZjS

— Embassy of Brazil – USA (@BrazilinUSA) 26 de março de 2019
Q: Mr. Secretary, are you looking at any way to possibly bring Brazil into NATO?

MINISTER FERNANDO AZEVEDO E SILVA (through translator): That's not a hypothesis we're considering, Brazil is looking forward to a peaceful and a swift solution to the crisis in Venezuela.

(Note DefesaNet - Appears that Minister Azevedo is answering another question not capted by recording system)

ACTING SECRETARY OF DEFENSE PATRICK SHANAHAN: OK. Mr. Minister, welcome. Ambassador, great to have you here. It's, I think as we discussed here, first visit as the minister of defense. So it's always a welcome home for you. As President Trump and President Bolsonaro showed last week at the White House, our U.S.-Brazil relationship is entering a new era and growing even stronger.

SEC. SHANAHAN: President Trump declared Brazil a Major Non-NATO Ally. This designation reflects reality. Brazil is a respected strategic partner.

Brazil's leadership in our hemisphere and beyond is welcome and impressive, from military exercises to professional military education to space.

Minister Fernando, I'm excited to build on this moment with you and make concrete advances to keep both Brazil and the United States safe.

This includes cooperation and interoperability, defense-industrial collaboration, research and development, cyber and space.

I note U.S. Cyber Command and U.S. Southern Command are working closely with your cyber command to strengthen cyber defenses.

And two weeks ago, the New York National Guard formally signed a state partnership with Brazil aboard the U.S.S. Intrepid in Manhattan.

Just two examples among many, but they prove our military-to-military ties are growing across the board.

Minister, I look forward to developing a personal relationship with you so we can do so at the senior-most of our military.

To close, let me share the great respect of the U.S. military for the armed forces of Brazil.

The spirit of the old expression about about Brazil's military remains true today: "The snake will smoke."

Minister Fernando, thank you, again, for coming. I look forward to our conversation.
? #Photo: Today in Washington, Minister of Defense Fernando Azevedo e Silva signed the Brazil-U.S. Agreement on Technology Safeguards associated with U.S. participation in launches from the Alcântara Space Center. ???? pic.twitter.com/1FAehQGPTY

— Embassy of Brazil – USA (@BrazilinUSA) 26 de março de 2019
MIN. AZEVEDO (through translator): Mr. Secretary of Defense, members of the U.S. entourage, on behalf of the Brazilian delegation, I would just like to say that I have truly been moved to be here in the United States this morning.

It was here in the United States at Fort Benning and Fort Bragg that I passed a few years of my early childhood when my father was here.

So I was a very young boy and I didn't have much of an opportunity to practice my English. The words I did learn all have to do with the things I was most interested in such as hot dogs, cheeseburgers, and ice cream.

(LAUGHTER)

I have no doubt in the meaning and the sincerity of your words. We are two great democracies that fought together during the Second World War.

And it was fighting side-by-side in the battlefields of Europe, Brazil and the United States, and we had a hard time believing in our eventual success on the battlefield, so much so that saying started that we said it was more likely for a snake to ever smoke than for us to succeed in this war. And that snake smoked.

So there are a number of topics I wanted to talk about, but I did ask our President Jair Bolsonaro to allow me to not accompany last week when he came because I wanted to wait and ride the wave of his success coming before me so that when I did arrive I could avail myself of that situation.

So there, Mr. Secretary, you raise a number of very important issues that are indeed also important to the Brazilian armed forces. First and foremost, the issue of becoming a non-NATO ally.

So we're fully aware of the importance of Brazil's leadership within the South American theater.
Brazil's Minister of Defense Fernando Azevedo e Silva and Acting Secretary of Defense Patrick M. Shanahan met in Washington, D.C. today for talks about the military-to-military relationship between their nations. pic.twitter.com/NXDdDk1i9F

— Embassy of Brazil – USA (@BrazilinUSA) 26 de março de 2019
Brazil, U.S. Relationship Goes Back More Than 200 Years
MARCH 26, 2019 | BY DAVID VERGUN
Acting Defense Secretary Patrick M. Shanahan welcomed Brazilian Defense Minister Fernando Azevedo e Silva to the Pentagon to discuss the long-standing relationship between their nations' militaries.

Facts About Brazil

1 With more than 2 million service members, Brazil has the second-largest military in the Western Hemisphere, just shy of the 2.2 million who serve in the U.S. military.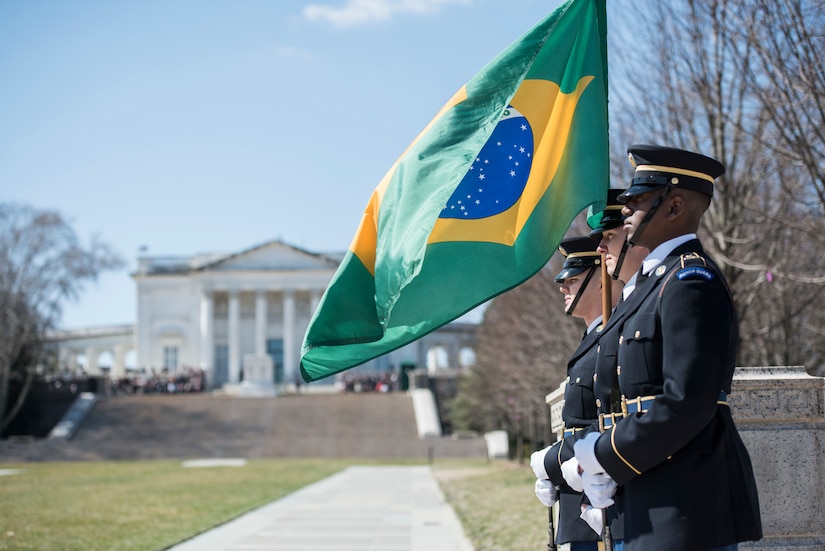 2 With about 209 million people in a nation that's 3.2 million square miles in area, Brazil is the largest country in South America in terms of size and population. The official language is Portuguese.

3 Brazil has led the United Nations Interim Force's Maritime Task Force since 2011. The task force works off the coast of Lebanon supporting peacekeeping efforts.

4 Almost all U.S. Southern Command-sponsored exercises in the region feature participation by Brazil. It will lead the maritime component of the UNITAS amphibious exercise this year and the land component of PANAMAX in 2020. Brazil also will send A-29 Super Tucano light attack aircraft to the Green Flag exercise this year.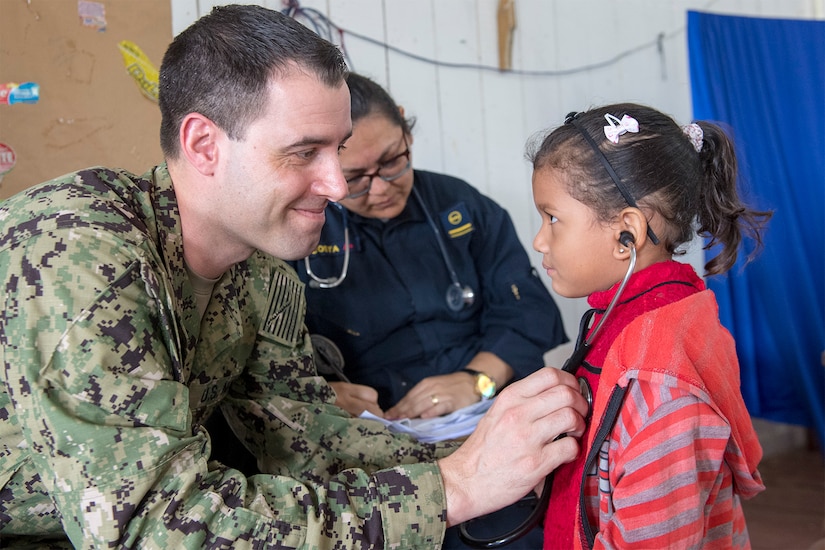 Historical U.S.-Brazil Relations

1 In 1844, the USS Constitution sailed to Rio de Janeiro. The crew painted the hull white to reflect the tropical heat and cool the ship somewhat.

2 Brazil sent an army division and a fighter squadron to Italy in World War II to fight alongside the 5th U.S. Army.

3 The United States signed a defense cooperation agreement with Brazil in the 1950s. Brazil withdrew from the agreement in the 1970s when the Carter administration criticized Brazil for human rights abuses. A new DCA was signed in 2010 and ratified by Brazil's congress in 2015.

4 On March 19, President Donald J. Trump announced his intent to designate Brazil as a major non-NATO ally.